North Carolina Region
---
Spring 2019 Tournaments
Regional
Tournament
1
Country Club of Whispering Pines
2 Club House Blvd
Whispering Pines, NC - 28327-9477
Mar 23, 2019 11:00 am
Mar 24, 2019 9:00 am
Competing Teams
Compete
Regional
Tournament
2
Mooresville Golf Course
800 Golf Course Dr
Mooresville, NC - 28115-3462
Apr 6, 2019 11:00 am
Apr 7, 2019 9:00 am
Competing Teams
Compete
FALL 2018 NATIONAL TOURNAMENTS
National Championship
Barefoot Resort
Myrtle Beach, SC
November 16th - 18th
The Fall 2018 National Championship is headed to Barefoot Resort in Myrtle Beach, where 224 of the top club golfers across the country will test their skills. Grand Canyon University took home the National Championship trophy during the Spring 2018 championship and will be looking to defend its title.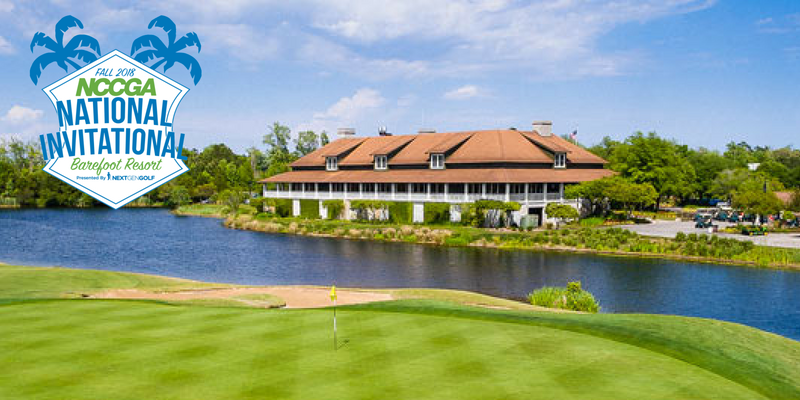 National Invitational
Barefoot Resort
Myrtle Beach, SC
November 16th - 18th
The Fall 2018 National invitational will give 120 club golfers the chance to compete on a national stage, with a trip to the Spring 2019 National Championship on the line for the winner. Players and teams that compete in only one regional tournament will be eligible to qualify.
Interested in competing in the North Carolina Region? Request Info!
"The NCCGA allows highly competitive golfers to still compete on a non-varsity golf. I was worried coming into school that I wouldn't be able to still play in golf tournaments, but the NCCGA allows me to continue my passion for golf."
Regional Coordinator
Douglas Terc
Regional Coordinator from High Point University
northcarolina@nccga.org

@NCCGA
I'm Douglas Terc, a freshman at High Point University and I live in Greenlawn, New York. I love golfing but I'm terrible at putting. I love spending time with my family and friends. I enjoy working hard and making money
History
The North Carolina regions boasts some of the top club golf teams in the country, and had its best and largest season to date in the Fall of 2014. 12 schools were represented at the regional tournaments: Campbell, Davidson, Duke, East Carolina, Elon, High Point, NC State, UNC Chapel Hill, UNC Wilmington, Wake Forest (M), and Wake Forest (W). The region is home to one of only two all-women teams in the NCCGA at Wake Forest. The region looks forward to building on its success, and welcoming all new students and teams. The North Carolina region will be in Zone 4 starting in the fall of 2017 for zone-based qualifying purposes. In the fall of 2017, Joey Funderberg (UNCW), Michael Savitt (Duke), and Nick Steward (NC ST) all earned individual invites to Las Vegas to represent their schools. In the spring of 2018, Michael Savitt earned another invitation and claimed a T2 finish with two great rounds in the 70s. This region was well represented at Nationals in the fall of 2018 with UNCW, UNC, and NC State qualifying. UNCW finished with a 4th place finish and a team score of 755 in the National Championship. UNC secured a T16 finished and a team score of 774. NC State placed 3rd in the National Invitational and finished with a team score of 789.